Celebrating CUC Men & Their Learning Journeys
23 Jun 2020 CUC Student Daniel Shirvington and Sophie Weathersbee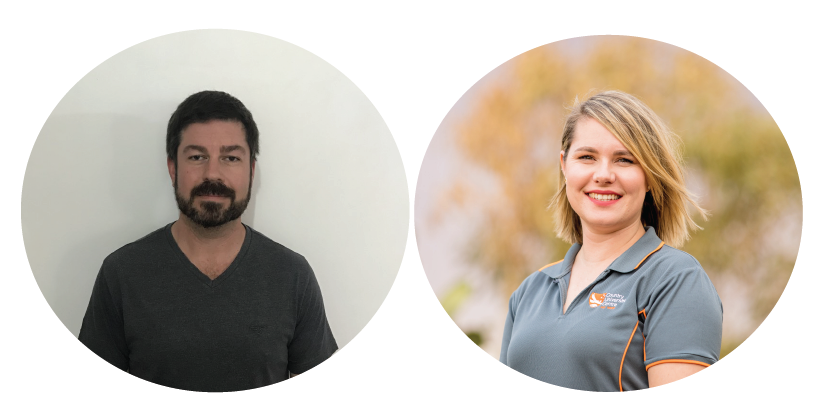 Daniel Shirvington is studying his Bachelor of Psychological Sciences through Swinburne University of Technology. He accesses CUC Snowy Monaro for the dedicated study space, and support from the CUC team.
Sophie Weathersbee is currently completing her Master of Counselling with Monash University. As a distance education student herself and one of the Learning Skills Advisors at CUC Far West, she knows first-hand the challenges of studying in a regional community. In the final year of High School, Sophie, like many teenagers, struggled with deciding who she wanted to be and what she wanted to do with her life. After taking a gap year, or four, she began study at the University of Wollongong to become a high school teacher with the future aim to do school counselling to help other young people on their journey to 'find themselves'. Sophie now works in both teaching and wellbeing roles across kindergarten to higher education, including providing support to CUC students through her counselling professional placement. Sophie is passionate about supporting our students to improve their educational, health and wellbeing outcomes.
Daniel's Story 
Daniel finished school in 2000 and since then the only formal education he achieved was a TAFE certificate III in 2001. Not knowing what he really wanted to do with his life, Daniel bounced around from job to job. Until finally in 2016, Daniel decided that he was no longer happy in his career and  wanted more from life. So, in 2017 he decided that helping others would be a much more satisfying life pursuit and began studying with Swinburne University via Open Universities Australia. It was slow and steady for the first couple of years while he attempted to work full-time and study part-time. In early 2019, Daniel decided to leave the workforce completely to focus on being the primary carer for his then 8-month-old son and switch to full time study. Not everything has gone to plan, but his goals are becoming increasingly closer. In June 2020 amongst all the uncertainty of Covid-19, Daniel finally reached the halfway point in his undergraduate degree. He said: It's all downhill from here!
Why did you choose Psychological Science?
I chose to study psychology as I noticed a severe lack of mental health services for the local community.
I had experienced a time in my life when I required the services of a mental health professional and getting help in a reasonable timeframe meant that I had to travel to the ACT. Another reason for doing psychology is that men are not very well represented in the mental health professions (approx. 20%). I hope to finish my undergraduate degree by the middle of 2022 and go on to get my clinical qualifications after that.
People living in regional communities do not have the same access to mental health care as those from metropolitan areas. This inequality is due to the lack of mental health professionals and services as well as extended waiting times; forcing many people to travel long distances to access care. According to the 2018 National Mental Health Commission, "the prevalence of people experiencing mental illness in rural and remote Australia is similar with metropolitan areas, that is around 20% of this population which is approximately 960,000 people. However, rural and remote Australians face greater challenges as a result, because of the difficulty in accessing the support they need, and the stigma, fear and discrimination of mental illness in small communities.
What does Men's Health Week mean to you?
Men are typically less likely to discuss their mental health issues compared to women; this limits the support that men are likely to receive. Without professional treatment men will often find other ways to 'self-medicate' such as abusing alcohol or other drugs. Gambling, aggression and other risk-taking behaviour is also common with anxiety and depression. These behaviours negatively impact the family unit, women can be subjected to emotional and physical abuse as can children who can be left traumatised, abused and neglected. Thankfully, the stigma that goes along with men's mental health is slowly disappearing.
Coming forward is a sign of strength, you will be surprised how many people will be there to support you.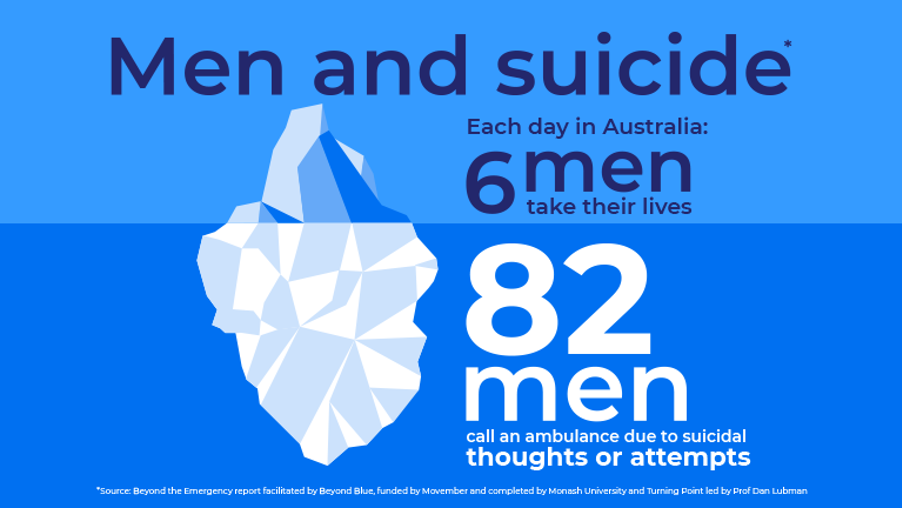 In their article "10 Surprising Facts About Men's Mental Health", The Australian Men's Health Forum discuss how research shows that men are less likely to seek out traditional 'talking' therapies, instead they use a range of different coping strategies to improve their mental health. Men are, however, "more than twice as likely as women to have experienced substance use disorders" and more likely to experience comorbidity with anxiety, depression and substance use.
According to MensLine Australia, "the mental health profession needs to look beyond the traditional ways in which support is delivered. New and innovative ways of providing help will make it easier for men to get the help and support they need." "Talking about obtaining help and support as a show of strength, taking control and getting things back on track can in turn change the way someone feels about mental health. That means asking someone if they've been "struggling with" or "battling against" pressures rather than "feeling sad or depressed". Even thinking of mental health as "stress" increases the likelihood of men accessing support and taking on those suggestions that can improve their situation."

Have you experienced any challenges in your studies?
Being an online student is incredibly challenging no matter what walk of life you come from. From poor internet connectivity to the challenges of family and work life, sometimes all you need is a quiet space to get away from it all.
The CUC has provided me with a refuge in which I can forget about all the distractions of everyday life and focus on improving my education.
The new addition of the Learning Support Advisor to the CUC has also been of great benefit. I now have someone who I can meet with face-to-face to work on my writing skills and overcome my procrastination issues.
Do you have anything else you'd like to share?
If you are having issues with your mental health, there are many avenues for support.
Beyond Blue – 1300 22 4636
Lifeline – 13 11 14
A helpful program that I have used is available at mindspot.org.au it helps explain anxiety and depression and gives you the tools to help combat them.
Another great resource is MensLine Australia which is the national telephone and online support, information and referral service for men.
For more information about Men's Health Week, visit: https://www.menshealthweek.org.au/.